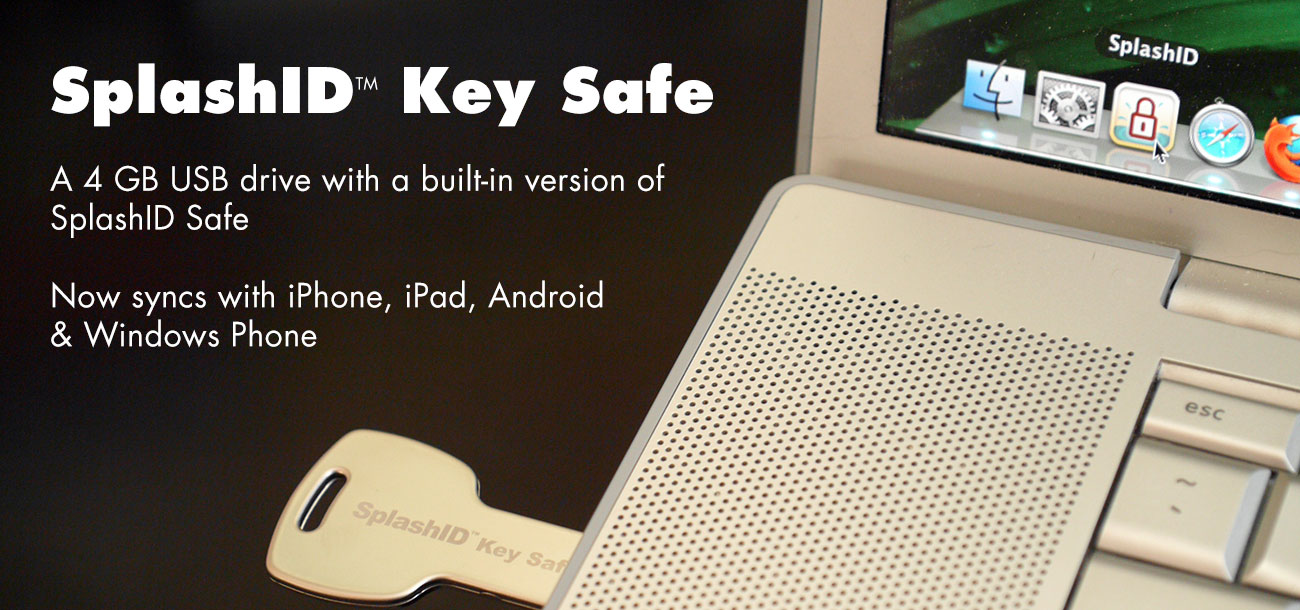 SplashID Key Safe is a USB drive with 4 GB of storage space, but it is so much more. A portable version of SplashID comes preinstalled for both Windows and Mac OS. Just plug the key into the USB slot of any computer, enter your password, and SplashID will launch with your data - wherever you may be. Pull the key out, and not a trace of SplashID nor any of your data remains on the computer.
| | |
| --- | --- |
| SplashID Key Safe USB Drive | SplashID Desktop Application |
Features
Never forget a username or password again - ever
Secure and backup your passwords, credit card numbers, registration codes, PINs, and more
Generate truly random passwords hackers cannot guess
Protect yourself from identity theft, keyloggers, and phishing
Best selling password manager with over 500,000 users
What can you do with SplashID Key Safe?
Give SplashID Key Safe to clients, friends or family members to encourage them to protect their valuable data

Put a SplashID Key Safe on your keychain to have a secure copy of all your critical information with you at all times

Place another SplashID Key Safe in a safe deposit box or other secure location and gain the peace of mind of knowing that you have a secure physical backup of all your usernames, passwords, account numbers, and other critical information in case of disaster
Of course, SplashID Key Safe can also be used like any USB drive to store all the photos, music and documents you want to keep with you.
And it's been getting rave reviews...
| | | |
| --- | --- | --- |
| "A security device isn't exactly a sexy gift, but this one is a neat idea that will appeal to a geek's practical side... [It's] a practical stocking stuffer." Full Review | "The SplashData SplashID Key Safe combines two of my favorite things: flash drives and password managers. This potentially lifesaving item... I think would make a great gift." Full Review | "Very handy! Your data is protected both by strong encryption and by the fact that it is on a removable USB drive that you can take with you, use on multiple machines, etc. Key safe is portable, handy, secure, durable, and decently priced." Full Review |
Any questions? Visit our Knowledge Base.
Buy Now - We Ship Worldwide!
$29.95

Also available in discounted multi-packs!
Choose one of these sizes below, or adjust the quantity when you get to the cart.

Tier 1 (5-9 Units)
20% OFF

Tier 2 (10-24 Units)
25% OFF

Tier 3 (25-49 Units)
30% OFF

Tier 4 (50 or more)
35% OFF

Also Available: Custom Printed with your Logo