Password Manager for Symbian Series 60, Mac OS & Windows

$29.95

Never forget a username or password again - ever
Secure and backup your passwords, credit card numbers, registration codes, PINs, and more
Generate truly random passwords hackers cannot guess
Protect yourself from identity theft, keyloggers, and phishing
Best selling password manager with over 1 million users





Lock your data with 256-bit Blowfish encryption security


Customize the list view with row colors, fonts, and more

Icons provide quick visual access to your records

Use the Password Generator to create unique passwords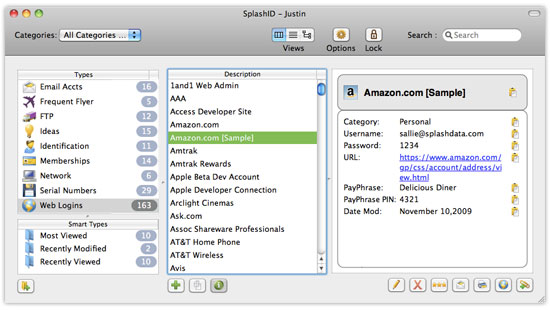 Included SplashID Desktop for Windows and Macintosh lets you easily view and edit your sensitive personal information on your desktop computer. You can export data and send it to Series 60 devices.
Key Features:
Best-selling password manager for smartphones, PDAs, and PCs
Unlimited number of customizable record types and categories for storing all kinds of confidential information (usernames, passwords, bank accounts, credit cards, registrations, insurance, perscriptions, and more)
Export data from the SplashID desktop for both Windows and Mac OS and import it on the handheld version (no two-way sync at this time)
Password protection, using 256-bit Blowfish encryption, keeps your data safe and secure
Automatic password generator - for generating passwords based on user criteria
Customizable list view supports color and icons
Share records with other SplashID users
Custom icon support
Field masking (for sensitive data like passwords)
Customizable field labels
Enhanced security options
Category support
Backup and restore feature

Buy now for $29.95 - get SplashData's 60-day money back guarantee

Or click here to download a 30-day trial version

Awards:
2010 Appia: "5 Stars"
2010 PalmGear.com: "5 Stars"
2010 Tucows.com: "5 Cows"
2010 Appia Champion Awards: Winner "Best New Application"
---
Reviews:
"I tried several password "databases" before trying this in a trial. I stopped looking after this and now recommend this one to family and friends. It syncs easily, and SAVED me when my hard disk on my laptop crashed." – User from Houston, TX
"An excellent product that does precisely what it says it will do, storing confidential data in a clear, clean simple format. I have to work with various forms of confidential data, and this makes it easy to keep. I strongly recommend it." – User from Barcelona, Spain
"The more I use Splash ID the more I ask myself why I did not start using it before... Splash ID is an easy, totally customizable solution that will change the way you store your confidential information." – Augusto P. for Palm Addicts
---
Nokia N78, N95, N96, N98, E50, E51, E66, E71, E90, 6110, 6120, 6220
Nokia 3230, 3250, 6670, 3600, 7650, 9210 Communicator, 7610, 6620, 6680, 6681, N-Gage QD, N-Gage, N-Gage-Cingular, N-Gage-AT&T, N-Gage-TMobile, N70, 6630, N80, N90, N91, 3620, 3660, 3620-AT&T, 3620-TMobile, 3660-Cingular, 6260, Series 60, 3620-Cingular, 3660-AT&T, 3660-TMobile, 3650, 6682, 6600, N71, 3250, N73, N91, N92, E60, E61,E70, E50, 5500d, N93, N80, E62, Samsung SGH-D730, SGH-D720, Siemens SX1, SendoX