Personal Finances... Simplified. For Palm OS, Mac OS & Windows

$29.95
Manage your money anytime, anywhere. Create budgets and then track and analyze your spending with customizable reports and charts. Synchronize your phone or PDA with your desktop PC to stay on top of your finances whether you're at home, on the road, or in the office. SplashMoney is the best-selling personal finance application for Palm and Treo. Includes free desktop companion software for Windows and Mac OS.

Track and analyze your
spending with customizable reports and pie charts




Customize the register view with row colors, font size and which columns are displayed

Create budgets and monitor spending by Category or Payee

Convert currency on the fly while entering transaction data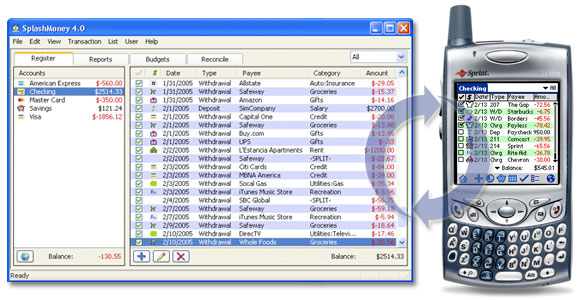 The included desktop software for Windows and Mac OS lets you easily view, edit and synchronize your SplashMoney data with your Handheld
Key Features:
Best-selling financial software for Palm and Treo
Supports most account types: checking, savings, credit card, cash, asset, liability, money market and line of credit
Secure password protection using Blowfish encryption
Quickly enter transactions using auto-fill and memorized transactions
Reconcile account statements
Print registers and reports
Scheduled transactions with reminders
Customizable transaction types
Multiple currency support
Supports hi-res displays and fonts
Simple, intuitive interface
Custom icon support
Supports categories, classes and splits

Buy now for $29.95 - get SplashData's 60-day money back guarantee

Or click here to download a 30-day trial version

Best Value: Purchase SplashMoney as part of the SplashWallet Suite and save 50%!

Awards:
2008 Handango: "5 Stars"

"Does exactly what I need it to do - keep all my account balances on my device where I can easily access them and update them." - Handango Staff Review

2008 PalmGear.com: "5 Stars"
2006 Tucows.com: "5 Cows"
---
Reviews:
"Easy to use yet powerful. Extremely good user interface and capable synchronisation with Quicken, including for split transactions and so on. Data entry is so quick and simple that even when at home I now use my Palm in preference to my PC." – User from London, UK
"I love being able to see at a glance how much money is in the bank, and what my credit card balance is. Having this information with me all the time (my Palm is kept in my purse) means I view it frequently. I also frequently review where my money is being spent and it has *really* helped me to cut back on impulsive purchases." – Kristin Elder, Palm Gear
"Easy to use program designed for our fast paced lifestyle! I know exactly what needs paid and when, also able to keep track of savings, bonds, checking, etc... - at a glance. Great way to stay organized, highly recommend." – Pamela from Chino Valley, AZ
---
Supported Palm OS devices:
Palm Centro
Treo 600, 650, 680, 700p, 755p
Palm Tungsten T, T2, E, E2, C, W, T3, T5,
Palm TX
Palm LifeDrive

Palm Zire 71, Zire 72, Z22
Palm m505, m515
Palm m125, m130
Garmin iQue 3200, 3600
Sony CLIE NX Series

Sony CLIE NR Series
Sony CLIE UX Series
Sony TH55
Sony CLIE NZ Series
Sony CLIE N Series


System Requirements

| | |
| --- | --- |
| > | Palm OS 4.0 or later |
| > | 675k of free memory for the application and 100k for the data |
Desktop

| | |
| --- | --- |
| > | Windows 7, Vista, XP, ME, NT |