SplashID Safe for Teams
Administrator Guide
Introduction
SplashID Safe for Teams extends the power of SplashID Safe by enabling your team, department, or entire company to organize and share critical records. It provides cross-platform support, instant setup, and improves productivity and collaboration of team members. This guide has been created to help company administrators manage and deploy SplashID Safe for Teams.
Sign up to create an account:
Step 1 - Sign up for a free 30day trial at SplashID Safe for Teams page
Step 2 - Fill in your account details as the Super Admin. This account will be used to manage all of your licenses. At this point, you will also be required to set your Company Key. Your Company Key is an additional layer of authentication and encryption for SplashID Safe for Teams data. Every user needs to login with their user credentials and the Company Key to be able to decrypt data and view it on their end user client.

Step 3 - On completing the sign up form, you will receive an email to activate your account
Step 4 - To sign in to SplashID Safe for Teams Admin application:
Sign in to your SplashID Safe account here. Once you log in, at the bottom left corner of the web client, if you are a Super Admin or Admin, you will see an option to 'Switch to admin panel'.Click on it to switch to Admin Panel. You can switch back from Admin Panel to web client by clicking on 'Switch to web client' from the Admin Panel.
As usage increases, these statistics will provide critical information about your data, records, and users. In the long term, the dashboard will help you and your company manage information records more proactively. The overview page tracks records over time, number of logons by month, records segmentation by groups, and total number of users, groups and records. In the SplashID Safe for Teams Admin application, you can access usage logs (such as record add/edit/delete) and system logs (logins, logouts). For auditing purposes, you can set a date range and export the logs into a CSV file.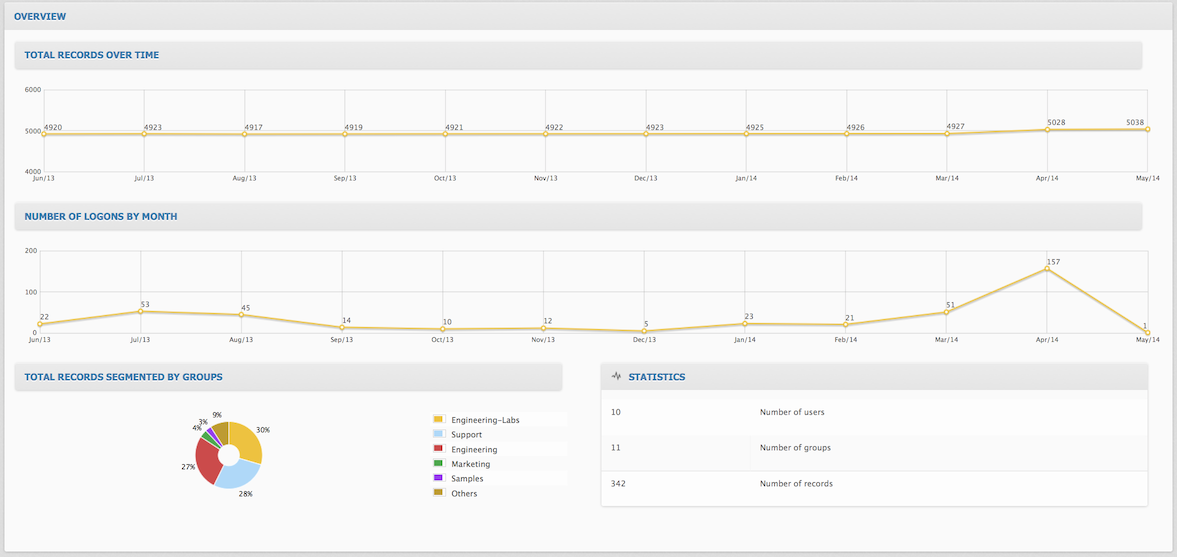 Usage Logs - These logs give you detailed transactional level information about additions, deletions, and modifications of records, groups, and types. You can export this into a CSV file to examine locally in a spreadsheet or to create custom usage graphs.
System Logs - System logs provide information about user logons. It gives you critical data on all logon attempts - successful and unsuccessful. You can export this into a CSV file to examine locally in a spreadsheet.
Users, Groups and permissions
User Management - User management is by far the most common functionality for an administrator. It allows you to add users, manage their permissions, and add and remove them from groups. By default, you are the first user on the system. You cannot delete, deactivate or reactivate your own administrator user ID. However, you can use it to log in as an end user of the product. This will avoid the need to create your own separate user ID.

Add user - You can add a new user by clicking the Add button at the top right of the user management main page. The email address acts as the user ID for each new user. There are four basic permissions categories and what you assign to a user is dependent on your team structure and hierarchy. Please note that there is no password field; after you add a user, the system sends an activation email prompting the user to set their individual login password. After they confirm through the activation email, they sign in to the client apps (mobile, web or desktops). Regular users are not allowed access to your administrator portal.

Edit User - You can edit an existing user by clicking the Edit button in the table row of the user. You can remove, activate and deactivate users by selecting the user and then clicking on the respective action button.

Export - You can export to a CSV file for backup purposes. Exported CSV contains all the user details (excluding password) and user permissions.
Import - You can select a CSV file containing users to be added to your team

Group Management - After you complete the basic settings but before you proceed to user management, we recommend that you create some groups. In practice, users generally belong to a department or a functional area. By setting up departments as groups early on, when you add users, you can set their group affiliations at the same time. This will save you time and also help ensure proper permission management from the start.

Add or Edit Groups - You can add a group by clicking on the Add button in the top right. You can modify groups by pressing the Edit button in the last column. Both will take you to same set of screens to work on the next steps. When a group is created, you can select group members from the pool of currently active users. If you create a group before users exist, you can add a user to one or more groups during user creation. As part of group management, whenever you add a user you have the option of setting their group affiliations. You can do that in Add Group tab as shown below. This tab displays all available groups and a permission box next to each one; check the box to add the user to that group.

Permission management - You can add a permission group and set specific permissions inside the group. While adding a user, you can assign the permission group, and the user would then inherit those permissions. You can also set a permission group as default, which means that while adding a user, default permissions would be inherited by the user. You can edit or delete a permission group at any time.

You can view your all your permission groups in a table along with set permissions.
Subscription Manager
Subscription manager allows you to purchase and reduce licenses. Once you have subscribed to SplashID Safe for Teams, you will see your licensing details:
Number of Licenses Purchased
Number of Licenses Used
Number of Licenses Available

You can also view your billing history, download invoices, and edit your current payment information.
Settings
Company Key - Your Company Key is an additional layer of authentication and encryption for SplashID Safe for Teams data. Every user needs to login with their user credentials and the Company Key to be able to decrypt data and view it on their end user client. You must create the Company Key during sign up. At any point, you can change the Company Key. We recommend that you choose a complex Company Key (such as a strong password or passphrase eight characters or more with alphanumeric and special characters) and change it on a regular basis.

Password Policy - We recommend that you set a password policy for your company. All users in your company must then create user account passwords that meet these requirements. Password policy varies company to company and we recommend that you consult with your IT security department before setting a policy. As a rule of thumb, we recommend passwords be at least 8 characters in length and contain a combination of characters and digits to ensure reasonably complex passwords.

Account Details - You can view or edit you account details. This screen shows the information you provided during the registration process. If anything has changed since then or may change later on, please update your information.
Export Data - This page allows you to export all of your company data in a in .zip which contains an encrypted SplashID .vID file for each group. To decrypt the records in the .vID file, you must provide the password.
Help Center and FAQs
Submit Ticket - If you are facing a problem or need help, you can submit a ticket through the Help Center. We will generally respond within the same business or latest by next business day. You will receive an email acknowledgement that your ticket was received.
Downloads - The downloads page provides links to download the versions of SplashID Safe for Teams. Current versions include Windows, Mac, iOS, and Android. You can also directly download the SplashID Safe for Teams client applications on Windows, Mac, iOS and Android here

FAQs - View the SplashID Safe for Teams frequently asked questions here
Tutorials View the SplashID Safe for Teams tutorials here