SplashID Safe Teams Edition

No more password reset calls to IT. No more sticky notes on desks and monitors with passwords and other sensitive records. No more emailing colleagues to find out what the latest login is for a company account. Employees can also maintain personal records.
Increase security and productivity by enabling all employees, a department, or a team to manage, update, and share passwords and other critical records such as account numbers, device ID's, access codes, project credentials, FTP and server information.

Secure On-the-Go Data Key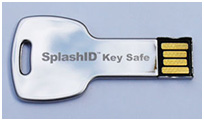 Just plug the 4GB SplashID Key Safe into the USB slot of any computer, enter your password, and SplashID will launch with your data - wherever you may be. Pull the key out, and not a trace of SplashID nor any of your data remains on the computer.