SplashID > BlackBerry > Download | Purchase | Release Notes | User Guide |  FAQ
---
Where do you keep your sensitive data now? SplashID securely stores usernames, passwords, credit cards, bank accounts, PINs, frequent flyer numbers, and more.

- Never forget a username or password again - ever
- Secure and backup your passwords, credit card numbers, registration codes, PINs, and more
- Protect yourself from identity theft, keyloggers, and phishing
- Best selling password manager with over 1 million users

"SplashID is my Fort Knox for passwords and confidential records - I don't know how I lived without it."

Filter records quickly with the on-the-fly Lookup field



Tree View provides an alternative view of your records



Updated icons provide quick visual access to your records

Select unique passwords with our generator's strength meter
Get the handheld software in the BlackBerry App World...
Get the desktop software with wireless synchronization from us!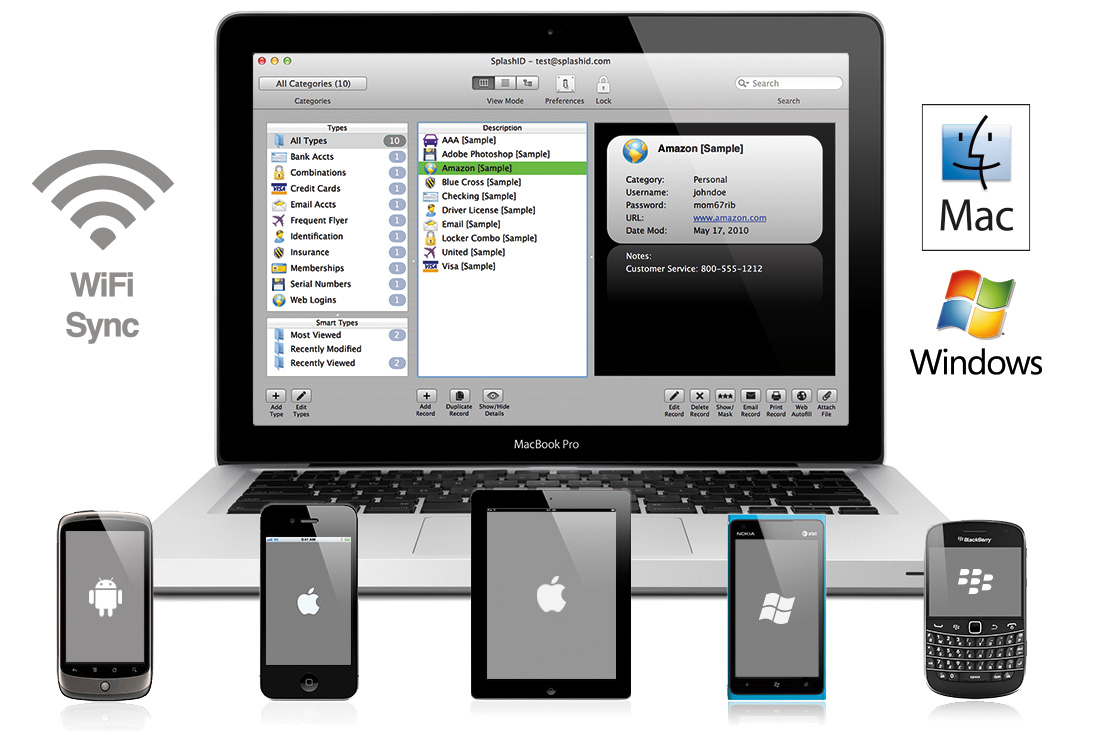 SplashID Safe for Windows and Mac OS lets you easily view and edit your sensitive personal information on your desktop computer and synchronize with your BlackBerry - wirelessly. Now you can also sync the same data with an Android phone, iPad and/or iPhone version of SplashID!
Key Features:
- Unified desktop synchronizes with Android, iOS, Windows Phone, and BlackBerry - wirelessly!
- SplashID Safe utilizes dual encryption with both 256-bit AES and 256-bit Blowfish layers, reducing the security risks for those that tend to use the same or similar passwords across multiple accounts
- Flexible and customizable to handle unlimited data or passwords

- Generate and remember truly random secure passwords with the built-in password generator

- Easily customizable with changeable list views and icons available

- A new auto-sync option enables sync to occur automatically whenever SplashID Safe is launched and authenticated on a user's device within range of their Mac or PC

- Additional features include improved data copying and a de-dupe tool that helps users find and eliminate duplicate records.

- A new search view presents a cleaner design that loads results faster

- New companion desktop applications, SplashID Safe for Windows and SplashID Safe for Mac, feature a redesigned user interface and improved ease of use with new buttons, information panes, tips, and a customizable toolbar

- Reminders help users remember passwords that need to be changed or upcoming credit card expiration dates.

- An advanced login option on the desktop creates an alternative to the traditional alphanumeric password by enabling users to trace a pattern using their mouse or finger on touchscreen devices.

- Field masking is an optional feature that disguises passwords from passersby.
- Unlimited number of customizable record types and categories for storing all kinds of confidential information (usernames, passwords, bank accounts, credit cards, registrations, insurance, perscriptions, and more)
- Clickable URLs provide easy access to your web logins (desktop auto-fills logins for you!)
- Share records with other SplashID users
Purchase SplashID for BlackBerry
BlackBerry software is $9.95; desktop software for $19.95
Get SplashData's 60-day money back guarantee
Reviews:
- "I tried several password "databases" before trying this in a trial. I stopped looking after this and now recommend this one to family and friends. It syncs easily, and SAVED me when my hard disk on my laptop crashed." – User from Houston, TX
- "An excellent product that does precisely what it says it will do, storing confidential data in a clear, clean simple format. I have to work with various forms of confidential data, and this makes it easy to keep. I strongly recommend it." – User from Barcelona, Spain
- "The more I use Splash ID the more I ask myself why I did not start using it before... Splash ID is an easy, totally customizable solution that will change the way you store your confidential information." – Augusto P. for Palm Addicts
---